Datatag Asset Management Information
The Datatag Asset Management software is used in conjunction with Datatag Asset Identification Technology such as transponders otherwise known as 'tags' or RFID 'chips'.
This unique IBM Premier Partner developed software solution is essential for any company or organisation that need to maintain accurate records of all their portable valuables. It is ideal for small to medium businesses, local authorities, councils, schools, utility companies, hospitals right up to large international organisations and worldwide corporations.
Valuable assets will not only benefit from being protected by Datatag but they can now also be accurately tracked and traced.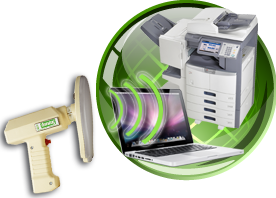 Most valuables and property can be protected including:
Desk top PC's
Lap top Computers
Photocopiers & Printers
Whiteboards & Projectors
LCD Monitors and Plasma TV's
Medical Equipment
General IT Equipment
Servers and Blades
There are various types of unique Datatag transponders that are designed to be easy to fit and can be virtually impossible to remove. In fact, Datatag have a transponder that simply sticks on to a valuable which allows external fitment, without invalidating warranties or requiring electrical PAT testing.
Each unique Datatag code is allocated to the asset and the assets details are entered onto the asset management software with other data such as purchase price or value, source, make, model, serial number, owner or keeper, room or building etc.
Datatag have developed a range of transponder readers that work in conjunction with a PDA or hand held computer and this allows a company to complete a physical stock check quickly, by simply scanning all the assets in a room or building.
The Datatag software will create a history of movement of the assets, for example if a computer was no longer in class 1A, this would be highlighted. However, it would also highlight that the computer is now located in class 3B and has simply been moved.
The system creates this history of transactions, but can also highlight any missing assets earlier than would normally be noticed. Also, the software can also show straight line depreciation and can be a useful reporting tool for Management Accountants, Finance Directors and Inventory Managers alike.
If you would like to know more or would like a demonstration please call Datatag for further information on +44(0)3 450 700 440.