Datatag ATV and Quad Bike System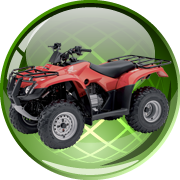 Electronic Security Identification System for ATVs and Quad Bikes
The theft of ATVs is running at an alarmingly high level and, worse still, is accelerating. To any thief, your ATV is potentially a 3D parts catalogue from which they can make a lot of money. Professional thieves can literally load your ATV into the back of a van so fast that no one will notice. They can also strip your machine to pieces in less than 30 minutes, regardless of electronic immobilisers or tracking systems etc.
Thieves can easily remove your ATVs engine and frame numbers, and they are aware that the chances of the Police being able to identify the machine afterwards are virtually nil.
That's why the Datatag system is so effective. As well as including various visible identification numbers our system includes state of the art 'tags' or transponders programmed with a unique code, which is registered to your machine. These transponders are hidden throughout your vehicle and are virtually impossible to find and remove successfully without damaging the ATV.
Datatag ATV and Quad Bike System Technology

Glass Tag Transponders
Glass Tag - This transponder is roughly the size of a grain of rice and can be easily installed. It contains a unique code number which is permanently programmed into it's integrated circuit. The number cannot be altered or deleted.

Mini Triangle
This eye catching warning triangle is used mainly in the plant and ATV markets. It contains a transponder and has been designed to be used as a high profile visible warning that Datatag is fitted.

Visible ID Numbers
These tamper-proof plates carry a unique identification number ensuring that your property can be tracked and returned in the event of theft. Datatag will take legal action against any copying or unauthorized production of these unique ID plates that contain Datatag's world wide registered trademark.

Warning Decal
These specially designed Datatag resin domed decals warn off any potential thieves and are both attractive and impossible to remove without damage

UV Etching
The unique invisible UV etching system form a major part of the risk deterrent and subsequent identification. This invisible UV etching won't visibly mark your paintwork!

Datadots®
A superior microdot identifi cation system developed for ease of use. The Datadots can be applied to any surface, thus making it virtually impossible for the criminals to locate and remove them all.

Datatag DNA
Is a unique chemical DNA solution. Each piece of plant or machinery will be protected with an invisible unique DNA code. Criminals will have to be confi dent they have removed every molecule of Datatag DNA. Datatag can supply this state-of-the-art DNA technology in paint, lacquer, glue, liquid, powder, grease, oil and a spray system.