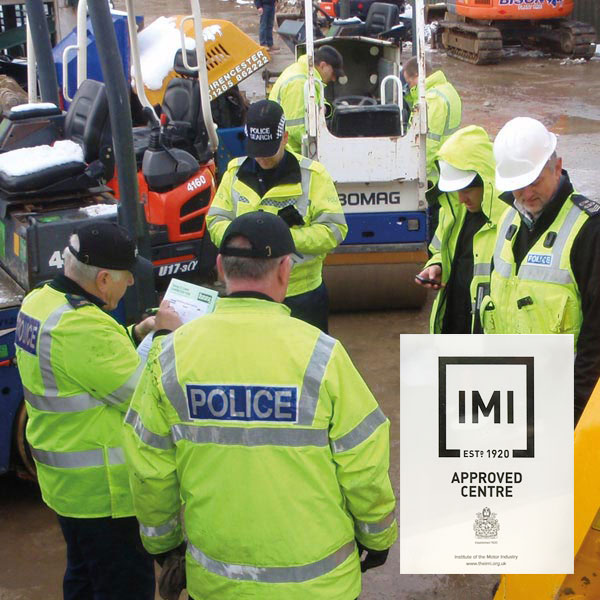 IMI Award in Plant & Agricultural Machinery Theft Awareness & Identification
Dates of next courses:
6th/7th September 2022
Recognition: IMI Quality Assured Award
Course content and learning outcomes:
An extensive knowledge base about the nature and extent of plant theft
Comprehensive understanding of rational selection, (what to stop!)
A full understanding of a preliminary roadside check, (what to look for when you have stopped it!)
How to recognise fake and altered chassis numbers
How to recognise fraudulent and tampered chassis plates
Understanding paints and primers
Effective use of the £10 tool kit
Designations and terminology
Understanding CESAR and how important it is that this Police CPI accredited scheme can assist you
Other plant databases and the implications of using them
Understanding of chemical and thermal restoration
Accurately ageing a machine on the roadside
Pro-active and re-active security
Health and Safety - the dangers surrounding plant
Benefits for the police forces are as follows:
There isn't a police force in the country which hasn't felt the effects of plant and agricultural theft over the past few years. Since the theft of cars has become much more difficult without being able to gain access to the keys, criminals have turned their attention to softer targets. And targets don't get much softer than plant machinery.
With an often one key fits all policy, no compulsory registration, no compulsory insurance, no documentation, no MOTs, no compulsory licence permit to drive, lack of tracking devices, low police awareness etc etc. The list is endless, which is why it is so attractive to criminals. The theft of machinery also facilitates other crime such as money laundering, ATM thefts, even terrorism!
It is very unlikely that technology such as ANPR will help in the detection of this type of crime. Once a machine has been stolen the best chance of recovery is usually within the first 48 hours and this is where the well trained police officer comes in!
This course will provide the officer with the knowledge to select and correctly identify a piece of suspect machinery, whether it be on patrol, road check, raid, or port, and is accredited with the IMI (Institute of the Motor Industry).
This course would appeal to a wide sector of personnel within law enforcement such as roads policing, ports, customs, FIB, PCSOs, SOCO, vehicle examiners, etc. After the course, each officer will leave having the confidence to stop, examine and deal with a piece of plant or agricultural machinery effectively.
The course runs over 2 days and is a mix of theory and practical. Students are required to fill out a workbook, and sit an end of course multiple choice examination.
The cost of the course is £599* ex VAT per delegate.
Recognition: IMI Quality Assured Award
Certification costs: Motor Vehicle Identification - IMI - £50.00
Certification costs includes one year free 'associate membership' to the IMI.
To book onto the course, please contact: info@datatag.co.uk - Places are filling quickly, so be quick!
*Please note registration and certification by governing body is in addition to these prices and will vary depending on the governing body.
---
This training courses can be held anywhere around the country. Costs will vary on location and accomodation. Max students per course is 12.
Some forces find this easier to bring the trainer to the students and to minimise costs.
Datatag - A unique layered approach to crime prevention and asset identification