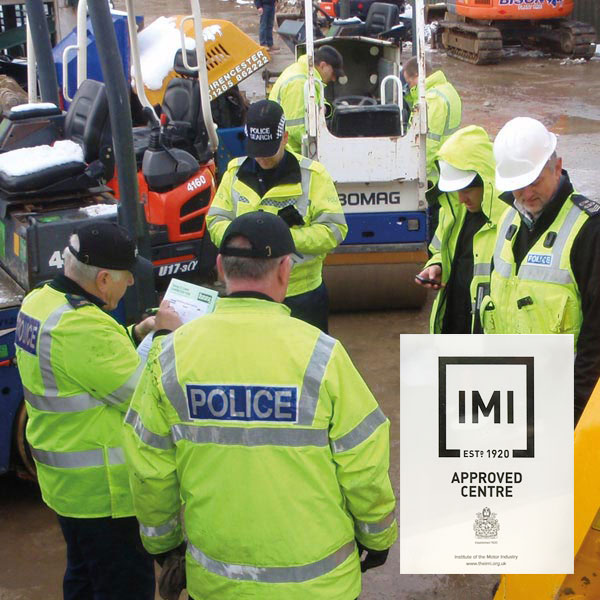 IMI Accredited Police Plant Machinery Identification
Dates of next courses:
1) 29th - 30th January 2024
This two-day course is aimed at police officers/ police staff who are seeking to improve their knowledge and confidence in examining plant machinery. The course is aimed for complete beginners through to those with an intermediate level of knowledge in plant machinery identification and investigation. The course is accredited with the IMI (Institute of the Motor Industry). Students will undergo a practical exercise and will complete a number of multiple choice/written assessments.
Students will gain a comprehensive understanding of the national official scheme, The Construction (& Agricultural) Equipment Security And Registration (CESAR) scheme. CESAR is used for the registration and the overt/covert marking of plant machinery and is powered by Datatag. Datatag is the official service provider of the CESAR scheme for the Construction Equipment Association (CEA) and Agricultural Engineers Association (AEA) and has marked approximately 620,000 machines since the scheme began in 2007. Students will learn how to use CESAR effectively and will learn the latest developments to the scheme.
The course will empower officers to not only locate, but also crucially to assess vehicle identification across both construction and agricultural plant machinery. This will arm officers on roadside stops, operations/ warrants etc to then effectively use local and national systems to correctly identify stolen plant machinery.
The course trainer was a police officer for 17 years including a secondment to the National Vehicle Crime Intelligence Service (NaVCIS) and is a Qualified Stolen Vehicle Examiner (QSVE). The course is deeply grounded within a background in law enforcement covering common criminal MO's and strategies to effectively combat plant theft
Successful students will be offered ongoing support by the trainer and will be updated on new and current trends.
Price Per Student - £599* + VAT / (IMI registration £74)
Please email our Police Liaison and Training Team on plt@datatag.co.uk for more information
*Bursaries are available for some students
Email Enquiry
Datatag - A unique layered approach to crime prevention and asset identification