Datatag Equine Saddle and Tack Security & Registration Theft Deterrent System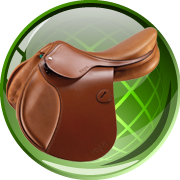 Electronic Security Identification System for Equestrian Saddle and Tack
Theft of saddles and tack has risen sharply over the last few months with many livery yards being cleaned out overnight by increasingly audacious thieves.
Datatag provides a simple to fit electronic 'finger print' for your saddle together with a warning decal for the tack room.
Unlike some similar systems on the market, Datatag uses a transponder that is resistant to the crush and shear that occurs in a saddle and benefits from the comprehensive infrastructure of Police scanners to support the Datatag system.
Datatag is easy and quick to install at home with no special tools needed. Alternatively you can use your local saddler to install it for you
The datatag equine system comes in either a single saddle option or a 'tack room' option for marking up to three saddles (all registered to one keeper/owner) and other items of tack with our unique Datadots and DNA.
Datatag also has a system available to manufacturers for horsebox trailers. Various manufacturers already offer Datatag as standard such as Ifor Williams, Fautras, Rice, Wessex and Pegasus and is an optional extra with Indespension and Brian James.
Datatag Equine System Technology

High Quality Metal Warning Stud
These specially designed Datatag warning stud show that your saddle is installed with a state of the art Datatag system and warn off any potential thieves.

RFID Tag
This RFID tag is about the size of an aspirin and is commonly used in harsh environments.

Datadots®
*Tack Room System Only
A superior microdot identification system developed for ease of use. The 1000 Datadots in each tack room system can be applied to any surface, thus making it virtually impossible for the criminals to locate and remove them all.

Datatag DNA
Datatag Datadots swim in a solution of chemical DNA, with an invisible, unique DNA code. Criminals will have to be confident they have removed every molecule of datatag dna from stolen tack and equestrian equiptment. All of these technologies combine to make anything marked by Datatag "too hot to handle!"

High Quality Warning Signs
These specially designed Datatag signss warn off any potential thieves and indicate that your property is protected by a state of the art Datatag system.