Datatag Marine Boats / Ribs Security & Registration Theft Deterrent System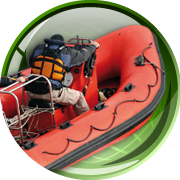 Electronic Security Identification System for Boats and Ribs
Theft of boats and equipment has become a major problem in the UK, and the Police face a very difficult task in tackling the marine crime wave.
Security measures in the marine world are usually inadequate compared to those found on most cars. Typically the average boat is very vulnerable. Firstly in terms of altering its original identity by tampering or removing the hull or engine number creating an almost impossible task for the Police or prospective purchaser to identify.
Secondly these craft are easy to move for criminals whilst on their trailers, unless they are stored in a secure location.
Datatag consists of a range of electronic transponders, Datadot®s and visible ID labels that contain unique identification numbers. The Datatag Marine Theft Deterrent System makes your boat easy to identify and therefore much less attractive to thieves.
All the Police have to do is call our 24 hour 7 day a week call centre with a visible ID number or scan the craft and provide a unique transponder code to establish or confirm the registered keeper within minutes.
Since its introduction in the 1990's, Datatag has already slashed theft rates of both Datatagged Motorcycles and Personal Watercraft. At the same time the recovery rates for stolen equipment have soared, and numerous convictions have been secured thanks to Datatag.
This system includes Datatdots® and Ultra Destruct Labels, which help identify key onboard equipment such as:
FishFinders
SatNav and GPS Equipment
Audio Visual Equipment
Some insurers offer a yearly insurance benefit, such as a zero theft excess or reduction in premium.


Datatag Marine System Technology

Self-Adhesive Tag
This flexible self-adhesive transponder contains a unique code number which is permanently programmed into its integrated circuit. The number cannot be altered or deleted and is impervious to attack by electric shock and magnetic waves.

Tamper Evident Warning and Re-Registration Label
Specially designed decals warn off any potential thieves and are both attractive and impossible to remove without damage.

Visible ID Numbers
These visible ID number are usually applied to the hull of the boats to make your vessel easy and fast for any authority or coastguard to identify.

Ultra Destruct Visible ID Labels
These labels are laser engraved and are impossible to remove in one piece.

Warning Decal
These specially designed Datatag resin domed decals warn off any potential thieves and are both attractive and impossible to remove without damage

Datadots®
A superior microdot identifi cation system developed for ease of use. The Datadots can be applied to any surface, thus making it virtually impossible for the criminals to locate and remove them all.

Datatag DNA
Is a unique chemical DNA solution. Each piece of plant or machinery will be protected with an invisible unique DNA code. Criminals will have to be confi dent they have removed every molecule of Datatag DNA. Datatag can supply this state-of-the-art DNA technology in paint, lacquer, glue, liquid, powder, grease, oil and a spray system.